'scandal' Star Bellamy Young Covers Capitol File Magazine, See The Hot Shots!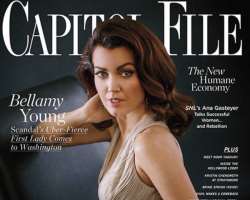 BEVERLY HILLS, April 27, (THEWILL) – Bellamy Young who plays the formidable First Lady, Mellie Grant in Scandal is the cover star for the latest edition of Capitol File Magazine.
In the accompanying interview, the actress talks Scandal, Hillary Clinton and more.
On landing a role in Scandal: "It's ineffably wonderful. I don't know how to find words to take the scope of the blessing in. As a 40-something woman in Hollywood, that I should get the material I get every week, that I should get to say these complicated, nuanced, flawed, victorious, villainous, beautiful monologues—much less that I should get to say them in the company of such openhearted actors, and supported by this crew of such unparalleled talent and heart—it is, for a person who is always the bridesmaid, for this to be my bridal moment is the blessing of a lifetime."
On her relationship with her co-stars: "We are like kittens tumbling around each other in a little bag," says Young. "We just want to be always on each other, and purring, and settling down for a nap. We are shameless in our love for each other. They are literally the best people! From Shonda and Betsy [Beers, executive producer], down to the actors, writers, crew, production, everybody is warmhearted and hardworking. Every moment is a gift."
On her strongest mentor in Hollywood: "Kerry has this quarterback metaphor. She immediately took us all under her wing, because we were greener than green—the girls in particular. There's so much to know because you have this whole other parallel life that is publicity. It's how to not reveal anything but still say something interesting that's worth listening to. It's physical presentation. To be a woman and dressing for the press—which none of us knew anything about. She always manages to get through [everything] with the most grace, the most thoughtfulness. She's always bringing out the best in [others] and being mindful of the larger picture, of why she is where she is, the moment and what the message is. She has been our moral compass, our tireless cheerleader, our dearest friend, and our highest, wisest mentor, and continues to be."
On Hillary Clinton: "My whole life I've watched her break through glass ceilings and have venom bounce off her in a way that I am just not built for. I am far too thin-skinned. To meet her and to see that she still managed to keep some sort of soft heart and light in her eyes—the fierce wisdom and all the possibility—it was so inspiring. I believe her to be the most capable human we have as an option right now to lead the country forward, I really do."
Photo credit: http://capitolfile-magazine.com/