Nigeria's Most downloaded Music App, Mooditt unveils Version 2.0 With Improved Features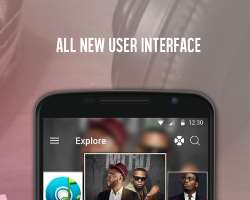 Nigeria – April, 27, 2016: Mooditt , Nigeria's No.1 favourite music streaming app, incubated by Mahindra Comviva, today announced the release of Mooditt 2.0, the latest version with improved features.
The new Mooditt 2.0 music app comes with a visually pleasing and highly fluid user interface (UI) but one of the app's key offering is its first-of-its-kind music cataloging by moods. This unique dashboard feature was designed especially for Nigerians who have an eclectic taste in music including Hip-Hop, Highlife, R&B as well as religious music depending on their mood at any given point of time. Mooditt 2.0 music app's improved algorithm classifies songs on the basis of various mood selections which makes it easy for the users to browse through Mooditt's content repository and enjoy songs of their favorite artists blending with their mood at any given time.
Mooditt is a high quality multimedia mobile application streaming service with a rich suite of local catalogue based digital music content. The app has recorded over 500k thousand music downloads and was ranked No.1 music app in Google Play Store for eight months in a row. In a short span of time, it has reported 2 million unique sessions, 32 million page-views, 2.5 million songs streamed with an average 7 minutes spent per Mooditt app user. The application is able to dynamically change the streaming quality of the song depending on the network bandwidth available to ensure uninterrupted and seamless music experience to the consumers. The service allows users to create and share playlist and also download songs and ringtones for listening offline, wirelessly. The app offers the user the ability to search directly for tracks, artists, albums and browse music by genres.
Announcing the launch of Mooditt 2.0, Sunil Maharaj Kumar, Head of D2C Business, Mooditt said, "The expansion of regional music brands and increase in smartphone user-base has been the key growth drivers for digital music in Nigeria, increasing its consumption exponentially. The new version of the app will surely top the ranking on app stores again as the No.1 music app in Nigeria as we have put a lot of effort into its design and user experience."
Speaking at the occasion, Olubukola Awodumila, Marketing Lead, Mooditt, said "the new Mooditt 2.0 music app does not just allow users to create personalized playlists but also allows them to create and manage their personal profiles and access downloads of hottest Nigerian songs offline. The user can download free ringtones of all the songs in the catalogue, select their favorite song share them on social media and also get newsfeed and information of their favorite artist. The app currently allows secure online payment through QuicktellerTM and would soon include other mobile money service providers like Paga, Pocketmonie etc."
The remarkable success of the Mooditt music app in mainstream Nigeria is a testament to how quickly the Nigerian music industry has matured with value chain players joining the mix and creating new wealth. The rise of Mooditt app as a content platform also reveals a growing subculture of content consumption over the mobile in Nigeria with some analysts hinting, that the value added services industry could significantly displace traditional media in content storage, generation and distribution in the coming decades.
Mooditt 2.0 music app is available on Google Play Store for android device users and on Apple store for iOS users. Web users can also access Mooditt content on https://play.google.com/store/apps/details?id=com.mlsmooditt
https://itunes.apple.com/us/app/mooditt/id930416805?ls=1&mt=8#
Mahindra Comviva has a long history of working in the mobile music space. The company has collaborated with over 200 local and international content providers, copyright bodies, local artistes, premium music labels and production houses. Currently, the company owns the rights to over 300,000 unique music tracks in African, Arabic and international categories in more than 40 languages.
PricewaterhouseCoopers has forecast consumer spending on recorded music revenues to hit $43 million and $19 million for Nigeria and Kenya respectively this year. Both markets are undergoing shifts also seen elsewhere in the world, meaning digital gains will roughly offset physical losses. PwC expects Nigeria's physical market to decline $3 million to $14 million by 2017, while its digital market is predicted to grow $2 million, to $28 million. In Kenya, a $2million decline in the physical market in 2017 is expected to overshadow a $1million increase in the digital market.