KATIE HOLMES TO PORTRAY JACKIE KENNEDY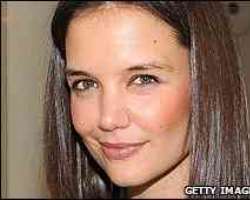 Katie Holmes made her name in teen drama Dawson's Creek
Actress Katie Holmes is to play former US first lady Jackie Kennedy in a TV mini-series about President Kennedy and the events surrounding his family.
Greg Kinnear has been cast as JFK in the drama, which is the first scripted series on The History Channel.
UK star and Oscar winner Tom Wilkinson will play Kennedy's father Joe in the programme, which will look behind the scenes of the famous clan.
The serial is due to be aired on the US cable channel next year.
It will cover the early years of Kennedy's presidency until 1963, when he was assassinated in Dallas.
Jackie Kennedy, who later married Greek shipping magnate Aristotle Onassis, was considered one of the world's most stylish women during her lifetime.
She died of cancer in 1994.
Holmes, who has been married to Tom Cruise since 2006, appeared in 2005 blockbuster Batman Begins.
The actress appeared in 128 episodes of television drama Dawson's Creek from 1998-2003, as the character Joey Potter.
Kinnear's numerous roles include in the 2006 hit film Little Miss Sunshine, while his performance in As Good As It Gets earned him a best supporting actor nomination at the Academy Awards.