Comedienne 'chigul' Is Gorgeous For Guardian Life Magazine! See Photos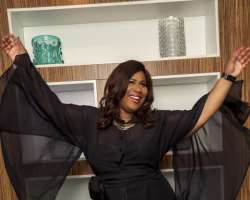 BEVERLY HILLS, April 26, (THEWILL) – Chioma O meru ah aka Chigul who blew into limelight with her hilarious voice note way back and has gone on to become a household name across the country, is on the cover of The Guardian Life magazine.
In this issue, the talented compère, singer, comedian among many other things, reveals her other side.
Read excerpts from her interview below…
The many facets of Chioma …
" I am a lot of things rolled into one. I do mostly comedy, I also MC/compere events. Comedy is something I have been doing for the past 6 years. All this started with voice notes, so I was a voice before I was a face. I sing and I am also a songwriter. I send messages through songs although different people perceive my songs differently ."
On her side projects which are contrary to the new generation media approach to celebrities involved in charity…
" I want to do my own small part and lend a helping hand, I have never been to an internally displaced persons (IDP) home before, it was such an amazing and heart wrenching experience because but God they could be me, they could be anyone else. I want to go back and stay in touch with them, the whole world isn't meant to see everything, all I did was give them myself, which wasn't much but it was a good thing that I made them smile. "
On the challenges of trying to keep true to the brand that is Chigul …
" I think that the only challenge would be that there are few ladies in this field in this country when it comes to the comedy aspect. It is a male dominated field, but all my male colleagues and sisters in the industry have been of support to me, pushing me and giving me platforms to showcase my talent. I have been very blessed to have people who have encouraged me all the way. When it comes to challenges, it is more of a personal thing for everyone to stay on the pulse, to evolve, to flow with the times, to bring new things every time. If anything I would say it is the fear, a little bit of trepidation because you don't know if you want to take the next step but that would be it, but you have to overcome those challenges and take that next step ."
Check out more photos from her spread below!

Read her full interview here .