Lil Kesh has left Olamide's Record Label, YBNL?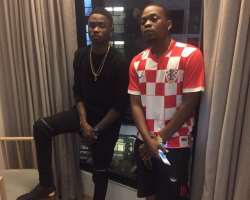 What is this we hearing that Lil Kesh is leaving Olamide's record label YBNL? The rumour is everwhere that the Shoki crooner is about starting his own record label. It was in 2014 that Olamide had signed two artists, Lil Kesh and Viktoh.
Then Lil Kesh came out with Shoki that became an instant sensation on airwaves and fortune smiled on him. He shared stage with Olamide and Davido during his performance at the 2014 Channel O Music Video Awards.
In 2015, Olamide shared a series of tweets stating that after each of his signees are done with their two year contract and that he would be happy for them to start up their own label because his prayer for them is "not to be slaves or dependent".
He tweeted last year "Saying Kesh or Viktoh or anyone else gona leave me is kinda shitty...I want this niggas to be great...Not to be slaves or dependent. All the niggas i signed...Just two years contract and when they are independent my prayer is for them not to sign any deal with a record label"
Lil Kesh is no longer sharing flat with Olamide but is now living in his apartment in Lekki where he has set up a home studio where he finished the recording of his first album 'Y.A.G.I'. Last March, he officially released his debut album under the YBNL imprint.