Ama K Abebrese to Feature Ghanaian Footballers Asamoah Gyan and Dede Ayew in Movie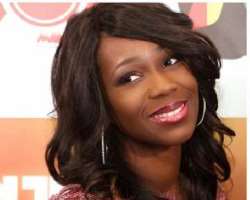 Ghanaian actress Ama K Abebrese has decided to give two super football stars from their country's Black Star team roles in movies. She is giving Black Stars Captain Asamoah Gyan and his assistant Dede Ayew, a comedy and an action movie respectively. This is a good innovative that will help in selling movies and bringing these footballers closer to their fans.
The reason why Ama has selected these guys for their roles is simple. She explains "For someone to do a Kumawood Kumasi kind of film because I have seen him and he likes to have fun and joke around; I definitely see Asamoah Gyan doing something like that," she said "He just doesn't take himself seriously and he's always joking around."
For Dede Ayew, she said that he belongs right inside an action packed movie. "Looking at Dede Ayew, the girls like him and the cameras seem to like him too so I feel like if he wanted to act, the cameras would just instantly love him. I feel like if it's an action movie, then Dede would definitely fit into an action movie".
Ama is always pulling out projects that gladden the heart of her people. We cannot wait to see if these two players will live up to her expectation.