Bukky Wright Son, Amu With United State Air force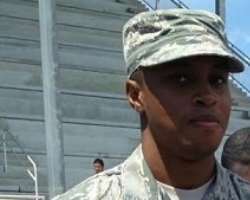 Popular Yoruba actress, Bukky Wright, is one mother that can sit back and hit her hand on her chest that she has indeed done well for her sons.
She was able to push and guide her son Ojay, who is into music in the right direction and now he is enjoying as an artiste.
Now, her second son, Amu Wright, has just been accepted into the US Air force now a United State Air force officer.
The proud mum could not hide how she feels as she had to break the news to her fans.