Omotola Jalade Ekeinde dressed to impress During Queen Elizabeth's Birthday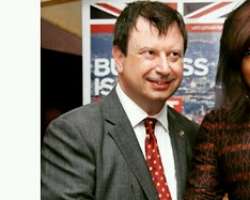 The Queen of England has been celebrated in the United Kingdom and around the world, Nigeria not excluded. The British High commissioner in Nigeria organized a party for the Queen's 90th birthday and a lot of personalities were invited. Omotola Jalade Ekeinde dressed to impress during the event.
In England where the Queen reigns, she had lit more than 900 beacons lighting up across the UK and overseas as part of her 90th birthday celebrations. On Twitter, the Queen thanked senders of "#HappyBirthdayYourMajesty" tweets. In another tweet, the Queen said: "I send my best wishes to those who are celebrating their 90th birthday... on this shared occasion, I send my warm congratulations to you."
Elizabeth II has spent nearly two-thirds of her life as head of state, and she's still carrying out royal duties. This week, she marked the 500th anniversary of the postal service and opened a bandstand. On Friday, the queen and her husband, Prince Philip, will host a lunch for President and Michelle Obama.
Usually the queen's birthday passes with little ceremony but to mark Thursday's milestone a beaming Elizabeth, attired in a light green outfit, mingled with crowds during a lengthy walkabout near her Windsor Castle home, west of London. In a rare move in recent years, she then drove through Windsor in an open-topped car with Prince Philip, her husband of 68-years by her side.