Female fan follows Solid Star to the toilet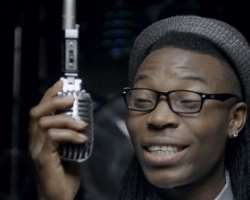 Oluchi crooner, Solid Star, is known as a non-socialite. The artiste is hardly seen in social events, except events that have him as a performing artiste.
Recently he granted an interview with Daily Times, where he revealed, he doesn't attend much social events like his colleagues because, he does not like going to events that wouldn't benefit him.
In his words: "My kind of person, I really don't like going to where I will not benefit from."
When asked the craziest thing a fan has ever done, he mentioned an incident at one industry night he had to use the toilet where he came across a female fan that followed him down to the male toilet, appreciated his work and wouldn't leave. Spotting her intention of getting close, he took to his heels.
"I wanted to ease myself, so on my way to the toilet, there was this lady who stood up at the time, so instead of her to go to the female rest room, she followed me to the male rest room and I was shocked. Then I asked her why don't you go to the female rest room? She said, 'Solid, I am a crazy fan of yours' and I responded with thank you. I expected her to leave immediately after my response but she did not ooo but rather she was coming close to me, I had to run out of the rest room."
Meanwhile, The singer is working on the remix of his new single 'Wait', though it's not certain which artiste he is working with, but we anticipate a meaningful remix.