9ice, ID Cabasa, Isaac Gerald, Ranti, Saco & More To Deliver Phenomenal Performances At "Korinsódì; An Evening With Gaise"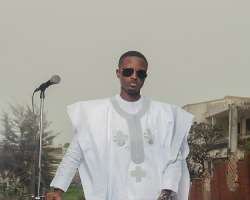 Fast rising afro-fusion artiste, Gaisebaba is set to disrupt Nigeria's music scene with the maiden edition of his revolutionary concert 'Korinsódì: an evening with Gaise.'
The unusual concert will feature unusual performances from some of Nigeria's most talented musical acts including 9ice, veteran producer ID Cabasa, Isaac Gerald, opera singer Ranti, Saco, EmmaOhMyGod and many more. The award-winning singer has also concluded plans to premiere the highly anticipated video to his latest hit single, Titilai, in the coming weeks.
Speaking about the inspiration behind the concert, excited Gaisebaba said, "Music can actually do much more than what we currently know. Having nurtured this idea for quite a while, I'm thankful it's time has finally come. Truth is, no one can be like you, and that's the power of you. We're not rewarded for our similarities; we're only rewarded for our difference.
Korinsódì is about celebrating the power of our uniqueness as individuals and as a people." "Korinsódì promises to be a standout experience of musical dexterity and pure ecstasy. It is a special evening that will parade the best of talents in jaw-dropping performances that leaves audience spellbound," he concluded.
Date: Sunday May 8th, 2016 Time: 5PM [Red Carpet]
Venue: Ace Olivia, City Mall, Onikan, Lagos.
Tickets: Regular N5,000 [Available on ticketsextra.com]
Enquiries: [Omoo 08065083153, Debbie 08185835658]
Website: www.gaisebaba.com