Carolyn Danjuma Gives out Fairly used Clothes to fans (photos)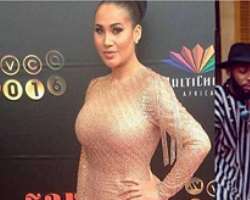 Actress Carolyn Danjuma, can also be described as a woman with a heart of gold as she is set to give away two of her most precious clothes worn to events.
The actress, who has been faced with various controversies especially related to her marriage, stated that she is giving the clothes out because she will never wear them again.
She promises to ensure that the clothes are fitted to seize the person who truly deserves it from her.
In her words, "So I have made up my mind to give out this two amazing pieces that blew me away. Two designs created by the best Nigerian designers I have ever worked with .. I know I can't wear it again and I would love to see someone else rock it.. Yes it was worn by me. A very riske design but amazing. I would be happy to get the designers to fit it to your size."