Emmanuel Ikubuese defends himself over his s3x role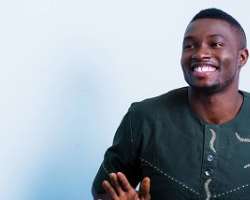 Overtime, Nollywood is beginning to get better. A lot of production is been shot to fit into foreign standard, and that could just set the pace for more interesting things in the industry soon.
Emmanuel Ikubuese became popular when he won the Mr. Nigeria contest few years ago. But now, his popularity somewhat went a notch higher with his 'sex' role in Fifty, a Mo Abudu movie went viral.
According to the model cum actor, he sees his role in the movie as an act and a way to prove himself.
In a recent interview with punch he defended his role saying it was an art, though Nigerians seems to think otherwise.
"I see acting as an art and you need to prove yourself. The film does not have anything to do with our cultural values. Fifty has a vision and the vision is not only to sell in Nigeria but an international vision to show the world. I believe the movie is about bringing life to art." He said.
The actor also revealed, he was paid a lot of money for the role he played and still anticipates lots more if the movie becomes successful.