GREECE CRISIS: EURO MARKETS HIT AGAIN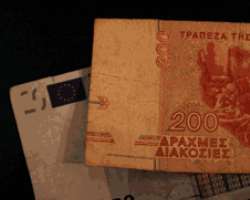 Stocks in both Paris and Frankfurt were down by more than 2% on Wednesday morning, following the downgrading of Greece's debt to "junk" status.
Spain's leading index is down 3.3%, while in Portugal – which also had its credit rating cut – shares fell 4%.
Meanwhile the euro fell to a fresh one-year low against the dollar before recovering slightly.
Overnight Japan's leading share index, the Nikkei 225, closed down more than 2.5% after steep falls in European stocks on Tuesday.
Greece's stock market regulators have also been forced to impose a ban on short-selling, amid concerns that Greek bank shares are being undermined by speculators.
Contagion fears
Global shares have tumbled after the credit rating agency Standard and Poor's downgraded Greek debt to "junk" on Tuesday.
That means the rating agency views Greece as a much riskier place to invest, and increases the interest rate investors will charge the Greek government for loans.
On Wednesday, that interest rate hit 11.3% for 10-year Greek bonds – another all-time high for a eurozone country.

The market is now looking at every country with a lot of curiosity
Gilles Moec, senior European economist at Deutsche Bank
There are concerns among some investors that the Greek crisis could spread to other vulnerable eurozone economies.
Yields on Spanish 10-year bonds have also reached their highest level – 4.27% – since the euro was launched.
Meanwhile investors are demanding an interest rate of close to 6% from Portugal – another relatively weak European economy.
"If yields rise much further Portugal may, like Greece, be in a position where [borrowing] on the open market becomes just too expensive," warned Jane Foley, research director at currency trader Forex.com.
On Tuesday, another debt-laden economy, Portugal, saw its credit rating downgraded by Standard & Poor's by two notches to A-.
"The market is now looking at every country with a lot of curiosity," said Gilles Moec, senior European economist at Deutsche Bank.
But he said other countries were not in the same dire straits as Greece.
"Portugal is clearly the most fragile country after Greece, but even so there is quite a lot of distance between [the two countries]," he told the BBC.
"The level of debt before the recession began was much higher in Greece. The immediate pressure on funding needs in Portugal is [therefore] not as dire."
He added that investors now needed to see clarity in the plans to bail out the Greek economy.
Proposed rescue
Later on Wednesday, the International Monetary Fund (IMF) chief will arrive in Berlin to urge German MPs to agree to a rescue deal, giving Greece billions of euros in loans.
Public sector workers protest in Athens
Dominique Strauss-Kahn will travel to Germany along with the president of the European Central Bank, Jean-Claude Trichet, facing politicians who have so far expressed their doubts over the bail-out.
As Europe's largest economy, Germany's involvement in any rescue deal is crucial, while the government is wrestling with public and political opposition to a bail-out.
German Chancellor Angela Merkel has insisted that Greece needs to show tougher measures to cut spending.
"You have to economise, you have to become fair, you have to be honest; if not, nobody can help you," she warned on Tuesday.
In Berlin, the BBC's correspondent Steve Rosenberg said senior politicians were still insisting it was "too early to say" whether a rescue deal would be agreed.
According to Simon Derrick, from Bank of New York Mellon, time is now running out for Greece to secure a deal.
HAVE YOUR SAY http://news.bbc.co.uk/1/hi/talking_point/default.stm
The Greeks need to accept the pain that is the inevitable and foreseeable consequence
MarkGE
Send us your comments http://www.bbc.co.uk/blogs/haveyoursay/2010/04/how_can_the_financial_crisis_i.html
"The message that has been emerging from the markets this week is that a resolution to the Greek crisis needs to be found in the next few days," he said, warning that delays risk "sparking contagion through southern Europe".
On Tuesday, European Council President Herman Van Rompuy announced a meeting of eurozone heads of state and government would be held on 10 May to discuss the Greek crisis.
He insisted negotiations on the aid were "well on track" and that there was "no question about restructuring" Greek debt.
Greece also needs to secure at least some funding by mid-May, when it is due to repay investors about 8.5bn euros of debt.
There is significant opposition to the handling of the crisis in Greece itself, with some demonstrators calling for the country to default on its debts so that foreign banks would pay the price for the crisis.