Toke Makinwa Throws Shades at Women?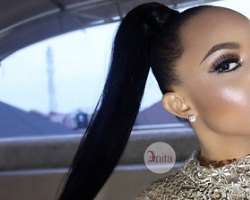 Today, Toke Makinwa, is all out to trash any form of issues that is worth dealing with anytime as she recently threw shades at an unnamed rival by quoting Mandy Hale. "Strong women don't play victim or make themselves look pitiful. They stand and they deal."
It is unclear who the post is targeted at, but her fans are already suggesting that the quote is directed to the recent drama involving blogger Linda Ikeji and Wizkid.
The OAP is not known to air her opinion on controversies which do not affect her but with this latest one, many are wondering what she is up to.
"Nothing stays the same. Seasons change, the storm will pass, the rain will stop and the sun will shine again. If you are in the middle of the storm I pray his grace is more than enough to weather it all. You will get thru it. You will be blessed through it. Even when it's hard to pray just cry to God, if you can't find your voice just sit in his presence and let him know that not only is he your last option, he is your only hope. He is alive and that's enough assurance. unbreakable Standing through it all," she wrote.