Hardtime In Nollywood: Osita Iheme Joins Nigerian Music Industry After Meeting Kcee?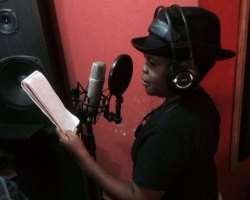 This is what everyone is asking, has Osita Iheme joined the music industry? Few days back, we have see relaxing with Kcee. It may not be a shock seeing that he has always been a powerful thinker who acts big.
He once said "I have always been a very optimistic person. I may not have seen how far I could go but I knew something great was coming. I can't really tell you this is how far or this is how I knew it was going to be, but like I said, I had always believed that something great was around the corner."
He has opened a hotel that had forced many out of business in Owerri last year and here he is trying something else. He had shared this photo of himself in a studio , maybe recording a new song.
About singing, he said "You cannot really stop anybody who wants to express himself or herself.
People have diverse talents inside them. As they try out several things they are able to perchance discover their core competencies. So I don't think it's bad for anybody to diversify into some other things. Entertainment is vast, so anybody can do anything they want to do. I would quickly support such venture as long as they excel."