Bad Example! Davido Caught Taking Weed in his Studio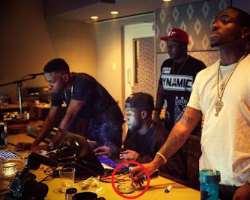 This is not the first time Davido is caught doing substance. During his fight with his baby mama, Sophie, there was a mention of taking away their baby to ensure that she doesn't have contact with substances. This time, it was inside his studio that we saw him trying to get high.
Earlier this year, he was accused of promoting drugs in his video, 'fans mi' which featured American rapper, Meek Mill. The Director of Public Affairs of the NDLEA, Mr. Mitchell Ofoyeju, said the anti narcotic agency had set up a panel to investigate the making of the video.
Davido 's manager has responded. "People have been talking about the matter on social media. Maybe they need to take time to watch the video again and see for themselves what it is all about. I don't know why anybody would want to make up a story about Davido getting involved with hard drugs," he said. "The yam flour was well projected in the video. It was finally prepared as a meal of pounded yam to be eaten with vegetable soup in one of the scenes in the same video,"
Well, this time, it is not yam flour but something that can land someone in jail if caught in excess quantity.