Nigerian Megalyn Echikunwoke and Chris Rock Spark Dating Rumours Again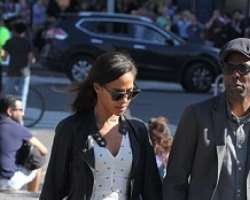 Megalyn Echikunwoke denied the rumours that she is dating comedian Chris Rock, yet, we found them together as they went to a matinee show in New York. The pair took time to dress for this event. Chris was in a grey suit, button-down shirt and flat cap with red-laced heavy boots while Megalyn was in a short white dress, which she paired with dress shoes and a cropped leather jacket.
Chris and Megalyn started seeing each other since February of this year, right before Chris's successful stint hosting the Oscars. Most of us have watched Megalyn on some movies without realizing that she is from Nigeria.
She has been cast as the super-heroine Vixen in The CW's Arrow series and has landed the role having provided the voice for the same character in the animated webisodes. Megalyn has dozens of TV roles on her own resume, playing both Tara Price on CSI: Miami and Isabelle Tyler on The 4400. She also had recurring roles in House Of Lies, 90210, That 70s Show and 24, where she played President David Palmer's daughter Nicole in season one.
We hope that this relationship woke out for them. We will be putting our fingers crossed until they tell us they are dating.