Mike Adenuga's Son in Babymama Scandal Case now in Court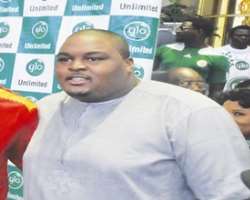 Chief Magistrate O. A. Ogunbowale of an Igbosere Magistrate's Court in Lagos has granted custody rights to Eniola Adenuga, over his 16-month old daughter. But his babymama, Maggie Ogun, a pharmacist, has sought the court's leave to appeal the order.
According to the Nation newspaper, Ogun's objection that Adenuga cannot take adequate care of the child, was dismissed and Eniola was granted an overnight access to the girl every fortnight from 8 am on Saturday to 12 noon on Sunday, until the case is determined.
But, Ogun, through her lawyer, Mrs Marian Jones of the International Federation of Women Lawyers (FIDA), has applied to the magistrate for leave to appeal the ruling. She is also praying for an order suspending the ruling's execution, as well as an order praying for a stay of proceedings pending the appeal's determination.
In his supporting affidavit in support of his motion for custody, Eniola, who works at Conoil Producing Ltd, said he started an amorous affair with Ogun in October 2013. He said she informed him in 2014 that she was pregnant with his child, following which he took full responsibility for their welfare.
Adenuga said he paid for her antenatal care at Reddington Hospital, gave her N100k monthly and took her to London where she gave birth. He said he paid the bills worth £22,000, purchased a first class return ticket for her, and accommodated Ogun and her mother in his Cadogan Gardens, London home.
He said Ogun returned to Lagos in January, 2015, three months after delivery, and denied him access to the child. His words: "I was denied access to see my daughter on the ground that I was not interested in marrying her. I sought her understanding in this regard and reminded her of the fact that we had both agreed to end the relationship as it was heading to nowhere."
He said Ogun's mother insisted that he would only see the child on the condition that he married Ogun.