Getting Married is Not Easy For People Like Us- Empress Njamah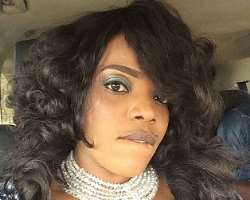 Marriage may not be something else for Nollywood actress Empress Njamah. She has been facing lashes once in a while when it comes to being single. She has denied that she has abandoned Nollywood, saying that it will be very unfair for her to abandon what actually gave her the name Empress Njamah. The industry does not have an expiry date no matter what age one gets to. One can still play a role.
She said "I grew up with legends, I learnt from Olu Jacobs, Joke Silva. My brothers are still in the industry as well. At some point, a lot of things started going on in the industry and one could not just fold hands and let these go on." She said that she had to concentrate on her House of Empress, boutique and shoe line.
When people ask her how she feels as a single woman "I feel like a woman who is not yet married. I am a realist. I am not the kind of woman who thinks that things just come to you. It will come at some point. It is not easy for people like us in the limelight unlike others. What kills us sometimes, is wanting to be perfect. A lot of people who fancy you probably don't fancy being in the news."
She came for the baby mama's in Nollywood "Most of them, who pretend that they are happy about being 'Baby Mamas' go home and feel sorry for themselves wishing that have a proper man. I have friends who feel that they have got to a certain age and they are not taken. These days, there are 30 women to a man. There is no pressure on me for not being married because I come from an enlightened family. Most of the things happening in the industry are not encouraging. This week, you are happy and have a big wedding, the next, you have broken up. What is the essence?"