IK Ogbonna's Kneels for Ooni of Ife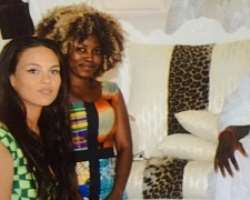 Wife of popular Nollywood actor, IK Ogbonna, Sonia, is really taking her planned project serious that she is paying the Ooni of Ife a visit for the second time after an earlier visit to discuss on the way forward for the youths.
Like many have began criticizing her visit, Sonia is not after the King's handsomeness as it is being expressed that the Ooni is so handsome that every woman will wish to have him as a husband.
The Colombian beauty has been spending alot of time in Ife where she and her team are working on the Ife Grand resort. She visited the Oba where she knelt as tradition demands.
Speaking about her visit, she said, " Big thanks to His Imperial Majesty for having us-Another meeting with Ooni of Ife at the Palace. Hard work + vision + determination = must pay off! Can't wait for y'all to see positive changes that are about to happen in our Nigeria. Ife Grand Resort, motherland Beckons Peace, Prosperity, Unity."