Yoruba Actress Robbed at Anthony Village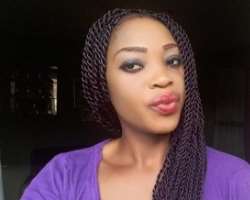 The high rate of theft in the country especially Lagos state, is becoming alarming by the day and one begins to wonder what the Nigerian Police are doing to help the situation.
Of recent, there has been news of various robbery attacks especially during traffic hours with one happening over the weekend to Nollywood actress, Jennifer Eliogu, at Ojuelegba bridge.
Still wondering the kind of Change that needs to be effected, another news of Yoruba actress being robbed has emanated and this time it is fast rising actress, Ayonimofe Onibiyo.
The actress, who manages her wine shop located in Anthony Village, Lagos, was said to have gotten a customer who came requesting for about 36 pieces of red wine which she was overwhelmed by such sales and brought the wine out on the table.
She was said to have dropped her phone on the time and went to get a carton to package the drink and on her return, the man had left pretending to be making call and on checking she discovered that her BlackBerry Passport phone and money were gone.
The actress quickly ran after the robber before the boys around the street ran after him and recovered the phone for her.