Omotola Fired for Near Unclad Photo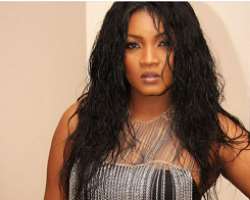 Nollywood actress, Omotola Jalade-Ekehinde, recently got some people talking when she shared a picture of herself that was used in a magazine interview as it shows how sexy she looks after four kids.
The picture shows the actress exposing some parts of her body which to some, it was a wrong move for her personality and as a mother whose kids are also watching.
Omotola was called out by some fans who gave their various opinions on why she shouldn't have accepted to pose almost topless for the magazine. Well, she is not easily moved by all these criticisms since she is used to them but she sure will not be able to keep silent without educating her fans as usual.
lizabeth0325: But as a mother, I don't think it's cool exposing her body nah.
olumidebola: How much were you paid for this photoshoot? N5,000,000?
abdulchurch: Omotola, too much flesh haba, next time tell them you ain't doing it even with hijab, you will still look hot. The photographers played a trick on you. See the cut around youur waist, like you in Gstring. It was deliberate to create that impression. You a mom of 4, married, role model, you not Toyin Aimakhu or Cynthia Morgan. High time you dropped the tag "omosexy" you old and almost grandma now. I like you, what you represent. Appreciate your talent, activism, and how you double as mum, wife, you inspire, kept in together unlike tons of your colleagues but don't do such shoots, you are wealthy, cute, famous, how much are they paying sef?
She came out to clear the air that when it comes to entertainment, she is known as 'Omosexy' but when it comes to her home, she is to be known as Omotola while the sexy part goes into hiding.