There Was a Time I was Paid with Toppers and Shirts Instead of Money- Sarkodie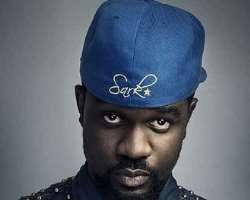 Ghanaian hip hop and hiplife star Sarkodie is one of the biggest names in the music industry here in Africa. He was not one of those who woke to fame without sweating out with poverty. His lyrics would always tell us that the past was a painful one.
Sarkodie, who was a BET Award winner was once paid in clothes and not money because some organizers of events didn't see any good thing in him.
He said "I played many shows for many organizers and they always paid me with t-shirts and toffees." This humiliation didn't stop him from achieving his dreams. "I still held on to the dream though at a point I nearly stopped rapping. I am not sure I would be here if I listened to people's opinion."
Today, Sarkodie has been named by The Guardian as one of the top five hip hop acts on the African continent. Meanwhile, rumour has it that the girlfriend of Sarkodie, Tracy has given birth, sealing the deal, as the 'Illuminati' hitmaker has always indicated she's the woman of his life and would be getting married.