White Coach Apologized to Nigerian Striker for calling him a Black Idiot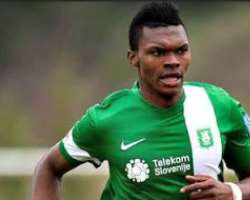 Nigerian striker Blessing Eleke was insulted by a white coach who called him a 'black idiot.' Marko Nikolac, is the man and he is the head coach of Slovenian league leaders Olimpija, where Blessing plays. The reason for this was because Marko wanted his team to conserve time and try to score a winning goal as they aim to reach the championship playoffs. However, Blessing over celebrated when the team equalized.
He has quickly apologized when the news went viral "I wish to apologise to the to everyone - the President, the Sports Director, Blessing Eleke and finally all fans of Olimpija for an inadvertent remark, which when heard again on television later sounded very distasteful and worthy of condemnation," said the young coach.
"My only wish was that after the equaliser on 92 minutes, we should try to get the winning goal. My target is to reach the national championship playoffs and go on to win the championship. I would like to thank all the team for understanding that my remarks were not meant to be racist."
The club president Milan Mandaric said; "The remarks of our coach were not racially motivated. He just wanted to win the game," he defended. "We are all focused on qualifying for the championship playoffs and going on to win the league."