Ciara Comes Under Fire For Refusal To Mention Future's Name During #bbmas Nomination Announcement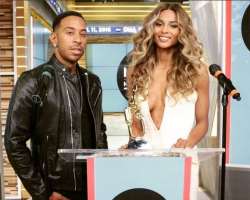 BEVERLY HILLS, April 13, (THEWILL) – Ciara is being dragged by her ombre strands on social media and here is why:
The singer who was announced as host, alongside Ludacris for the 2016 Billboard Music Awards and while reading out the names of the nominees for the best rap category on live TV, she refused to call her Ex, rapper Future's name. LOL.
She read out all the other names on the list but wouldn't say Future's name prompting Luda to help her out.
See the video below and let us know your thoughts!
#PressPlay: Who knew #Ciara could be so petty
#Ludacris #Future #BillBoardMusicAwards via @abcnetwork #PettyWap

A video posted by The Shade Room (@theshaderoominc) on Apr 11, 2016 at 12:43pm PDT

Video credit: Instagram/theshaderoom