Adeolu Dairo, Elvis Ogiemwanye And Eric Uwaoma Announced As Directors At Etisalat Nigeria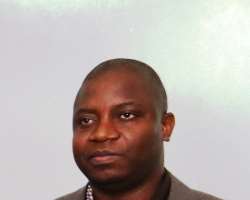 Lagos, Nigeria, 11 April 2016: Etisalat Nigeria today announced the appointment of Adeolu Dairo as Director, Consumer Segment, Elvis Ogiemwanye as Director, Brand & Experience and Eric Uwaoma as Director, Enterprise Segment.
The appointments followed a rigorous process, focused on identifying and selecting the best internal talents within the organisation and will further support the company in the delivery of innovative products and services to meet the demands of its customers.
Adeolu Dairo was previously Head, Customer Value Management (CVM) where he was responsible and instrumental in deepening Etisalat's organizational capability in marketing and customer analytics. In his new role as Director, Consumer Segment, he will lead his team in articulating and implementing the key pillars of Etisalat's marketing strategy in the High Value, Mass market and Youth Segments. Elvis Ogiemwanye was previously Head, Youth Segment where he successfully worked with his team to build Etisalat's youth brand (EasyCliq) as well as develop the teen segment (Cliqlite).
As Director, Brand & Experience, he will assume overall responsibility for execution of strategies that enhance the Etisalat brand value and equity as well as customers' experience across all touch-points. Eric Uwaoma was previously Head, Enterprise Sales where he played a pioneering role in setting up Etisalat's Enterprise team, from recruiting experienced sales executives, to developing processes and growing the company's share of the business market.
In his role as Director, Enterprise Segment, Eric will be responsible for leading the entire Enterprise function – including sales, marketing, and after-sales support – to continuously improve Etisalat's share and profitability among all business customers across the country. Mr. Francesco Angelone, Chief Marketing Officer of Etisalat Nigeria said "over the years, Adeolu, Elvis and Eric have played pivotal roles in driving many of our positive customer and market results.
These appointments reflect the fact that, as an organization, Etisalat remains committed to growing its people through careers that meaningfully build on experiences – including work-related challenges, opportunities, and achievements – to prepare talented employees for more responsibility even as the business evolves."
He affirms that "at Etisalat, we are committed to empowering individuals and our communities to empower the nation; therefore we look forward to the benefits of the transforming leadership that will follow these new appointments." =Ends= About Etisalat In just 7 years of operations, Etisalat Nigeria has become a major industry player with a growing subscriber base of over 23 million in a highly competitive market.
Its portfolio of voice and data-centric products include – easy starter, easycliq, easybusiness, easyblaze, cliqlite, classic postpaid and easyflex; all tailor-made to meet the needs of its customers. Etisalat Nigeria is one of the 19 operations of the Etisalat Group that spans across Africa, Middle East and Asia serving over 182 million subscribers; and it is committed to delivering innovative and quality services to its growing subscribers.