Ini Edo Loses so Much weight, Now left with Backside Only (Photo)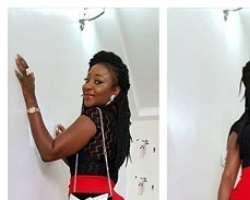 Nollywood actress, Ini Edo, is seriously enjoying her endorsement deal with a tea company that provide services for those on the plus size who want to slim or shed some weight.
The actress, who overtime has explained that she was born chubby, has forgotten her testimony and is now looking all slimmer than usual and gradually losing her curves.
Though sometimes she hits the gym to get the right curves in place and maintain a flat stomach but these days the actress looks so different all thanks to the tea she has been consuming which has left her with just her backside.
You can judge for yourself because pictures don't lie.