Singles Ladies not Allowed to Lodge in Kano Hotels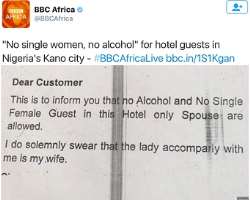 A BBC correspondent, Isa Sanusi, who is currently carrying out a feature story in Kano state, Nigeria, was recently shocked at a document he was given to sign when he decided to lodge in a hotel in the state.
Isa had walked into a hotel to lodge and was given a slip to sign affirming that any lady he was coming to lodge with was his wife due to the high rate of single ladies who come to lodge in hotels in the state.
According to reports, this is due to the practice of the Sharia law in the state as this has always been a random check done by the state Police known as Hisbah.
According to him, "I was in Kano earlier this week to collect material for a feature I'm working on and checked into hotel where I was asked to sign this slip. Every guest at most hotels here are required to sign such statements because of random raids by the Hisbah – the city's Islamic police force. The Sharia officers search the hotels looking for single women, who they always assume are prostitutes. Sharia was introduced in Kano in 2000 Prostitution, gambling and the consumption of alcohol are banned Christians living in Kano are not subject to Islamic law."