Zain Asher Is Engaged! Nigerians Celebrates With Ejiofor's Family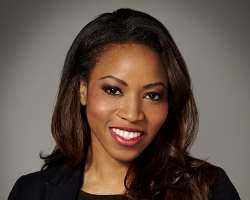 The news is everywhere that CNN's Zain Asher! Who is this Zain Asher and why are Nigerians interested in her story? If you know Hollywood actor, Chiwetel Ejiofor, then you may not have problem identifying with Zain, the sister of Ejiofor.
The anchor had taken vacation to Florida on April 1st, and we are guessing the guy popped the question during or right after the trip. Zain is Ejiofor's younger sister who works as a financial reporter for the network news CNN. She is an Igbo woman despite her non-Igbo name. Both siblings have same parents with same Igbo heritage. One chooses to keep his Igbo name; another chooses to drop her Igbo name.
She had written "Off to the Florida Keys for a much needed vacation. No cellphone, no email, just sun, sand & water. Yes please. @sppeoples @lifeisnotacoach"
Well, it was the sister, Kandibe who revealed the engagement "congratulations to my beautiful sister and bro to be!! You guys have made my week! Can't wait to play your wedding ( I now know how you feel at t_harmonee lol) Love you guys so much"