Charly Boy Talks About The Controversial Kissing Picture With Denrele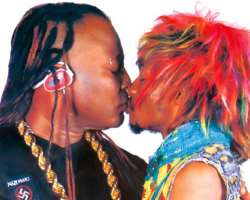 Controversial singer and critic Charly Boy Oputa was put on the hot seat during Sunday's Rubbin' Minds with Ebuka where he described himself as "attention walking on the street". That is not all that he said! He went as far as talking about a leaked photograph of Denrele Edun and himself kissing, he said it was leaked with Denrele's consent, and was done on purpose.
He said that most of the things that we read are all engineered by him. The reason is "If I don't do that, you will soon forget me and I intend not to be forgotten. I don't look at them as unconventional. The people out there do that. For me, it is a very normal thing and because I understand your mind-set… take for instance my rings they are just rings to me but a lot of people will read a lot of meaning into it."
The picture of him kissing Denrele has been one of the most controversial pictures on the internet. Charly Boy explained "Sometimes you can agree to something, but when the heat comes up, whether you can take it or nor is a different matter," he said.