I 'LL FIGHT ELECTION RIGGERS – AKHIGBE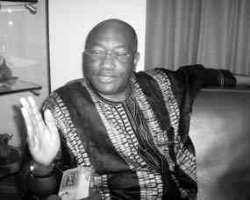 Rtd. Admiral Mike Akhigbe
A former Chief of General Staff, Admiral Mike Akhigbe (rtd), has warned politicians intending to rig elections to refrain from such, saying he is prepared to fight election riggers in the country.
'The votes of the electorate are sacred and should count,' Akhigbe said, even as he advised Nigerians to identify their needs and the type of leaders they want and vote for them.
Akhigbe spoke to our correspondent in Lagos on Saturday, on the sidelines of the public presentation of a book, 'Bridges To The Customer's heart,' written by Mr. Paul Uduk.
Akhigbe said, 'Nigerians should elect a good leader. It boils down to customer service. What do you need of your leaders? They have so many needs. They are an open book for anybody to read. Do not deceive yourself, you know what you want your leaders to do for you and the type of leaders you need, and vote for them.
'If you expect to rig election, some of us are waiting for election riggers, to fight them as I have been doing. I am going to fight election riggers as I did in 2007 and the last time we had a local government election.'
A former Chief Executive of the Nigerian Economic Summit Group, Prof. Anya O. Anya, at the event also advised the electorate to focus on the track record of aspirants before voting for them.
He also said there was the need to make Nigeria's economy production-based, rather than consumer-oriented, for economic transformation and to help the economy come out of the current global economic recession.
Anya said, 'Let the best man win. I will advise Nigerians to ask for not only promises but for track record. What have you done in their little part, how has that improved the circumstances around them? Whether it is the Vice-President running or IBB or who ever, there has to be a track record that is the basis for judgment.
'What is wrong with the economy is not only Nigeria. It is global. But nevertheless, if you have to solve the problem, you must also understand your own environment and reposition the global problems within your own context. This, unfortunately, we have not done very successfully because when the economic crisis started, some of our authorities managing our economy told us that it was not going to affect us. But that is not possible because we produce oil and sell oil. The running of oil industry is international, therefore the country is going to be affected by the decision people take outside the country's shore.'