INEC has no powers to withhold Rivers re-run election results: PDP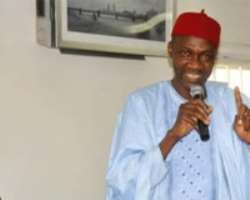 The Peoples Democratic Party in the South-South geo- political zone on Sunday  called on the Independent National Electoral Commission to as a matter of urgency, release the remaining results of the just concluded re-run election in Rivers State in the interest of the political advancement of the nation.
Chairman of the party in the zone, Dr. Cairo Ojougboh, in a statement condemned  INEC's for its alleged biased roles  in the Rivers State re-run election.
Ojougboh maintained  that INEC over-stepped its powers by cancelling results announced at the polling unit, saying that the the Electoral Act was clear on the issue.
According to him,  the eight local government re-run election results purportedly cancelled by INEC were overwhelmingly won by the PDP.
The chairman also blamed the  the violence and insecurity in Rivers State  the All Progressives Congress in the state who tried to wrestle parliamentary seats from PDP.
"In the state where there is a popular sitting governor that is performing maximally and loved by the good people of Rivers State, the APC wants to destabilize the government and the train of progress by attempting to infiltrate the House of Assembly through the back door,"  he said.
Ojougboh enjoined Wike to continue to deliver the dividends of democracy to the people of Rivers State and not allow himself to be distracted by the antics of the APC,
Ojougboh told the Minister of Transportation, Mr. Chibuike Amechi, to concentrate on his federal appointment and strive to contribute his quota to the well-being of the people of the South-South rather than dissipating energy in Rivers politics.
He also charged the Federal Government to do everything to accord the South-South zone the attention it deserves in the scheme of things. On the inconclusive nature of elections in Kogi State, Ojougboh berated INEC for not being thorough and questioned the rationale behind the alleged award of votes of a dead man to an individual who never participated in the governorship election in Kogi State.