Brest Cancer Survivor Debbie Osarere Loses Battle To Skull Cancer!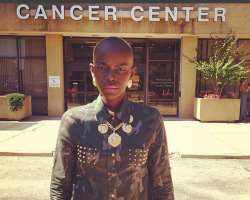 BEVERLY HILLS, April 02, (THEWILL) – Debbie Idiagbonya Osarere's story is one that will linger on in the hearts of many. The cancer fighter has lost her battle with the deadly disease.
Debbie who was initially diagnosed with Stage IV Ductal Carcinoma Metastasized Brest Cancer in 2011 fought valiantly through different stages of the treatment and won before being diagnosed with liver cancer, and just last year, cancer of the bones, lungs and skull.
She yesterday, the 1st April at a hospital in Maryland, USA where she had gone to receive chemotherapy treatment
Her very good friend, Gossipgirlee broke the news on her Instagram page where she wrote: "Adieu Debbie. The best sister I could ever wish for, u were still yelling at me on Tuesday when I was crying that you are gonna be fine that you were just feeling sleepy. This was not our plan. We were suppose to go back to Nigeria together to thank Nigerians for their love and support over you. In as much as I love you so much. God loves you so much more. Sleep on Osarere Idiagbonya till we meet again."
Till her death, Debbie, a model put on a strong front and was a source of inspiration to many battling cancer with her very positive outlook on life while sharing her battle and recovery process with others.
Read her last post before what would be her final chemotherapy treatment.
What can wash away my sin? Nothing but the blood of JESUS What can make me whole again? Nothing but the blood of JESUS Oh precious is the flow That makes me white as snow No other found I know Nothing but the blood of JESUS. HE is risen and so shall I rise and be free from my plague. Mark 5 vs 34. Preparing for Tomorrow's Chemotherapy treatment.

A photo posted by Idiagbonya Osarere Debora (@debbified) on Mar 27, 2016 at 8:02am PDT

Rest in peace Debbie!