After Surgery, Charles Okocha Back to Drinking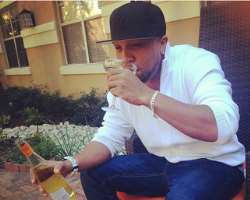 Nollywood actor, Charles Okocha better known as Igwe 2pac, is still jubilating after surviving some bullets wound at a wedding late 2015, which saw him bed ridden for a while.
His surviving story has been a miraculous one as his intestine opened and after several neglect from people to rush him to the hospital, even at the late hour, he still gave a strong fight to survive which he made.
Since recovering from his operation and getting back to work, the actor has been testing his skills in different things like running to know how fit he is and now rather than consider himself for some rest, the actor has returned back to his usual lifestyle of drinking.
He recently shared a picture of himself having fun with a bottle of drink in his hand which is not likely good for someone like him who is just recovering from a surgery.