Ruggedman, Foluke Daramola and UNILAG Students 'Fight' in Lagos (photos)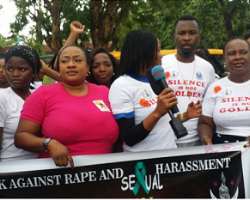 The high rate of rape cases in the country is becoming questionable and it seems government are busy handling other issues and neglecting the cry of rape cases in the country and this has angered some celebs in the country.
Recently, actress, Foluke Daramola accompanied with human right activist Joe Odumakin and Ruggedman with some students of the University of Lagos, matched through some parts of Lagos to drive home their point on the rape issues in the various parts of the country.
It will be recalled that some other celebs in the country have also staged various protest on the same issue some months back and they seem not to be relenting on this as they hope to ensure that the government come to aide of girls and women in the country.