FAREPAK: SAVERS TOLD TO WAIT FOR PAYOUT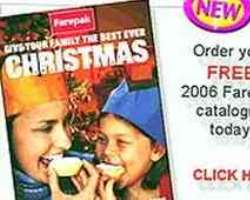 Savers who lost out following the collapse of Christmas hamper firm Farepak face a further wait for a cheque to cover some of their losses.
About 120,000 customers will be offered about 15p for every pound they lost following a settlement between the liquidators and Farepak's directors.
This comes on top of some previous compensation paid out in vouchers.
But those who have made claims must wait for the final details to be settled before receiving the money.
They do not need to complete any more paperwork but will eventually be contacted by the liquidators.
Collapse
Customers of Farepak, owned by European Home Retail (EHR), paid money monthly to the company as a practical way to put cash aside for Christmas – receiving hampers and vouchers to use in shops.
But the Swindon-based company collapsed in October 2006, leaving the average customer – often from low-income families – some £400 out of pocket, with some losing more than £2,000.
Former customers hoped for a total payout of £38m from the directors, but the liquidators have come to an agreement with the former directors for a payout of about £4m.
This also brings to an end a legal action being brought by the liquidators against the directors, with no admission of liability by the directors.
"This is a pragmatic solution to take into account the cost, delay and uncertainty of going to court and the ability of the directors to pay," said insolvency expert Nick Hood, of Begbies Traynor.
'No timeline'
In practical terms, customers who made a claim for their money back had initially expected to get 5p for every pound they lost. This has now risen to 15p.
This liquidation is by no means cut and dried
Campaigner Suzy Hall
"The joint liquidators are in the process of working out the details but based on current information we estimate that the dividend will increase from approximately 5p in the pound to approximately 15p in the pound," said a statement from liquidators BDO Stoy Hayward.
However, no timeline has been set for when these cheques arrive in the post and some customers remain angry about any potential payout.
Bev Carter, a former Farepak customer who lost £300, said: "I was not expecting to get any more money out of them – as little as it is, it is still not enough."
Shortly after the collapse, a number of retailers clubbed together to hand out vouchers worth 17.5p in the pound for those who lost savings.
Individuals who saved with local Farepak agents – who were often friends or family – have been asked by liquidators to make claims for the rest of the money individually, rather than through the agent.
Their interests are being looked after on the liquidation committee by two representatives, including Suzy Hall, of campaign group Unfairpak.
"The action against the directors of Farepak has been settled and I have no further comments to make on that regard," said Mrs Hall.
"However, the liquidation committee, of which I form a part, will be meeting with the liquidators in order to decide what future steps shall now be taken following upon their investigation into Farepak's demise.
"This liquidation is by no means cut and dried and does not necessarily end here."
The committee also includes a former employee of Farepak, a former supplier of the business, and representation from HM Revenue and Customs.