Jhené Aiko & Big Sean In Hot Shots For Flaunt Magazine As They Announce Twenty88 Collaboration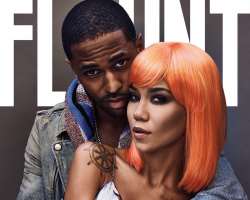 BEVERLY HILLS, March 31, (THEWILL) – Rapper Big Sean and singer/songwriter Jhené Aiko have teamed up on a new project to the delight of fans.
The regular collaborators announced their new joint album 'TWENTY88' which will combine neo-soul, ambient beats, and trap drums.
Speaking on the new project, Jhené says: "Music now doesn't really cater to the feelings of a real relationship,It's all about trapping and bragging. I feel like this project is something that's needed right now…Especially a whole project is just good for people to see. That duality is a perfect combination."
The self-titled project has reportedly been in the works since summer 2015. According to Big Sean, the sound ranges from "turned up" to "melodic," while remaining "cohesive."
"We're in a place where we're both established, and we've laid a lot of groundwork, and it's really taking it back to just having fun with it. I have fun with her. She's one of my favourite people to just be around and kick it with," he adds.
On their famous 2012 Lakers courtside date, Aiko reveals: "We went on a date, we went to a Lakers game. It was a long time ago, (it was in May of 2012 to be exact).
"First of all, I had a boyfriend and me and Sean had already met. We were friends. So he asked me to go out with him and even though I had a boyfriendI was like, 'Yeah, I want to go to the Lakers game!
"Sean had never asked me if I had a boyfriend or not.It was pretty obvious after a while it was a date.
"We had never really been alone together. It was really fun. I took a picture of Kobe."
Read the full interview here .
Though we know they are just really good friends and Jhené is married, we can't help but marvel at the chemistry between these two!
See more photos from their spread…
Credits
Photographer: Christian Anwander for Art Department
Stylist: Ade Samuel, Rebecca Jefferson, and Noelle Smith
Hair:Bellair
Makeup: Felicia LaTour
Groomer: Lucia Rodriguez
Barber:Kahil
Producer: Ames Petrossi for Art Department
Photography Assistant: Matthew Hawkes and Matchull Summers
Tailor:ZoyaMilentyeva
Styling Assistant: Rome McMaughton
Prop Stylist: Matthew Luem
Prop Styling Assistant: Brian Porter