Rumour Has It that Toke Makinwa Has a Secret Child-Toke Deletes Comments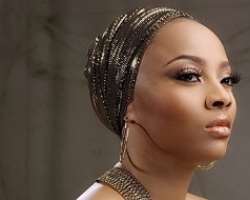 Toke Makinwa dated Maje Ayida for over 12 years before getting married to him in 2014. Even though, their marriage didn't last long, some fans are asking Toke to present her kids to the public. Maje had a child before the marriage but Toke didn't conceive which is why this demand for her to show the world her kids is surprising.
Toke didn't deny or reply, instead, she deleted the comments on her page which has fuelled the rumour the more.
One of her ladies' fans started it all when she told Toke "You have never posted any of your child picture on Instagram. All you do is post your ugly picture with your wild and ugly mouth to instagram..." When someone else tried to rubbish the comment, the lady added "Yeah, she does a child but she is not showing her child to the world"
Another chipped in "Child?? Toke has a child? Wow Toke show us your child. People will love and respect you more for that. Never knew you had child, but it's good news"
"Is your child not good enough for us to know or are you ashamed that it is out of wedlock? Come on bae, wake up and face the reality and leave the fake life for fake china phone bae, bless up Toke"