Susan Peters Talks About The Joys Of Marriage, Pregnancy, Nollywood & More!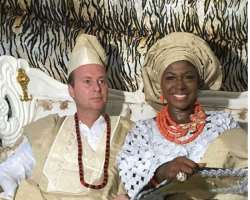 BEVERLY HILLS, March 29, (THEWILL) – Following her marriage last October to Dutch beau Mr Croon, Nollywood actress Susan Peters has been keeping a low profile.
In a recent chat with Encomium , the screen diva opened up on the joys of marriage, pregnancy, Nollywood and more!
Read excerpts from her interview below:
How does it feel getting married?
It is sweet and it is also sour. You tend not to do all the things you used to do because you are not single any more. It is like a check button, it is a bit different from being single.
What are those things you can no longer do?
Just normal things single ladies do. You cannot do them anymore because people will talk. So, you have to be cautious.
What has marriage changed about you?
I am just adding weight. I don't even understand.
Are you already on a nine month course?
Why are you asking. What is your own? You will see it when it becomes bigger, so wait.
As an actress, what do you think should change about Nollywood?
Honestly, I will give Nollywood credit. Even before I joined Nollywood, we were looking up to actors that started it. As the days went by, we kept growing and now, we are no longer in it for the money but for recognition. You feel delighted when they say your movie is nominated and you actually win an award….
Will your new status influence the kind of roles you play?
No, not really. I am an actor. My husband met me in the job. He should support the job. It doesn't change me from doing what I used to do. The only thing is, there are some other things I would not do. I will not act as a single lady. That is it. Every other thing maintains the status quo