Face Of Idoma Carnival Move Motion Against Agatu Massacre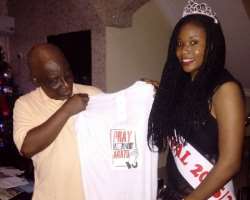 Reigning Face of Idoma Carnival Queen Ashley Yusuf has joined the masses in protesting against the wanton destruction of lives and properties in Agatu Local Government by suspected Fulani herdsmen.
In her bid to create more awarenes,she went on to design a customized T-shirt which she distributed to some of the House of rep members,Local Government chairmen and former senate president with the caption"Pray For Agatu', Speaking with modelssphere, she said.
"It is sad enough that scores of lives have been lost .My people are no longer able to sleep peacefully at night.The government should please investigate the remote and immediate causes of the hostilities . I 'm sure the truth would be unearthed and both parties would find a common ground for peace and harmonious coexistence ,".
#Prayforagatu#