Soldiers Torture Worker of IBEDC Substation Over Erratic Power Supply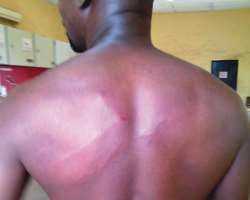 Some angry soldier attached to the 35 Artillery Brigade, Alamala Barracks, Abeokuta, Ogun State had stormed the office of the Ibadan Electricity Distribution Company and tortured one of the workers over "poor power" supply.
The soldiers, numbering about six was led by one Major Musa, stormed the IBEDC substation – Olumo business hub, Rounder on March 6 and met one of them, Salau Adekunle, on duty. They had descended upon the poor worker with horse whips and he ended up in a hospital.
The barracks and environs got five hours supply daily, which falls short of the soldiers' expectation. The victim said, "I was on duty on that day around 12pm when the soldiers came into our office with horse whips. They told me to get up and without explanation, they started beating me. I had to go to the hospital for treatment. I informed our head office and it promised to do something about it.
"They had come earlier then to threaten us. We reported at our head office and the head of the barracks was petitioned. They complained that they did not get supply regularly, but it is not our fault. They said they would be the ones to determine the number of hours they want power. We told them it was not possible, but they didn't want to listen."
The other workers are now scared of doing their works because of the soldiers, who have refused to understand that there is a reduction in the power generation nationwide, who are always threatening them.
One of the soldiers who refused to be named said "I am aware of it (the attack), but I was not around when it happened. Power supply is not regular in the barracks. We used to have power for eight to 10 hours."
However, Major Musa, however, denied leading soldiers to attack the electricity workers. He said, "All the information is false. You can come to the barracks to get the correct information."