I'm Not Ashamed of My Failed Marriage…Toke Makinwa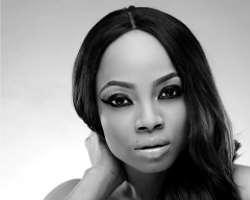 Popular On-air-personality, Toke Makinwa, seems to have learnt a lot from her failed marriage to her fitness coach hubby, Maje Ayida, several months back.
The tale of the two lovers spread like wide fire sometime in 2015 due to infidelity by her husband which led to him having a baby with another lady and that built the foundation of her separation with her husband.
Some months down the line, rumours had it that the two lovers were back together after they were both spotted at an event in Lagos but observers alleged that Maje had been the one trying to hang around Toke which gave birth to the rumour they were back together.
Several months after the whole brouhaha, Toke has come out to advise ladies on relationships before accepting to say 'Yes' to a man but admitted that she failed many who looked up to her during her own marriage.
Toke stated that despite the fact that she has failed in hers does not mean she should be ashamed to teach others things they need to know.
In her words, "I won't lie since my personal life suffered a public setback last year, talking about relationships left me feeling a type of way, kind of like I failed at mine so who am I to talk but as time goes by, I am getting comfortable again in my own growth and I am learning as I go so we can all learn together. We are the sum of our experiences so I am no longer ashamed, I have been given a platform and it's my duty to share."