As an African Woman, I'm Not Comfortable Tying Wrapper…Kehinde Bankole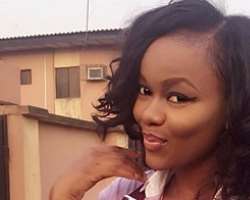 Nollywood actress, Kehinde Bankole, as disclose that despite being typical Yoruba lady, she does not like the idea of her going around in native attires.
The actress stated that wanting to dress in something comfortable, native is just out of it because they don't make her comfortable the way she wants.
She explained that whenever she attempts to tie wrapper as an African woman, she ties it to the right when ideally it she be tied towards the left.
Kehinde also noted that walking on native dress can be very stressful for her.
"It is because they don't make me comfortable. I like to be comfortable when I dress and I don't get that whenever I wear native attire. I tie my wrapper to the right while ideally I ought to tie it to the left. Also, to walk in native attire can be very stressful. If the occasion does not call for it, then I try to avoid it and go for something that would be more comfortable," she noted.