I Had My First Holy Communion in Pry 4…Beverly Osu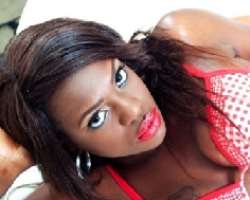 Nollywood actress, Beverly Osu, is one of Nollywood toast at the moment due to her acceptance of some daring movie roles especially where she had to carry a live snake round her neck.
Not the smiling kind of person, which she has clearly admitted but she loves making friends and knows how get along with people close to her with ease.
The actress while sharing her past picture disclosed that being the church girl, she had her first Holy Communion while in pry 4 and that was in 1999.
According to her, "Ok this is me in the year 1999 I was in primary 4 (laughs) in St Catherine model school, my first holy communion, I still remember the song we sang but can't remember taking this picture, Was never the smiling type even now you all know. My smile is PRICELESS."