Picture: Omotola Jalade-Ekeinde Arrives Hawaii With Husband Ahead of Marriage Anniversary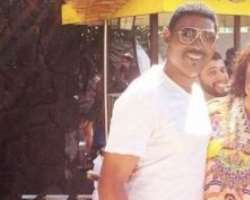 The 20th marriage anniversary of Omotola Jalade-Ekeinde and her husband Captain Matthew is on March 23 and the couple has kicked it off. The couple who is on a 10 day trip abroad are already in Honolulu, Hawaii.
Last week, Omotola was in suspense on where the husband was taking her. She had told fans on how Matthew had taken her during a surprised honeymoon trip to Côte d'Ivoire so many years ago.
Finally the suspense has been revealed to her when she had tweeted "…he said to me pack for 10 days babes we going somewhere! He's still flying as I await. Anticipating like a kid again. Where could it be this time?'
She shared the photo above of herself and her hubby on a beach on the tropical Island...