Shoggy Tosh's 'PAMOTO' Ft Henrisoul debuts #7 on The Drive Charts -Spirit FM 96.6 Uganda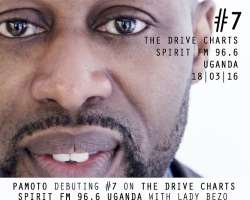 Shoggy Tosh's song, 'PAMOTO' ft Henrisoul debuted #7 on The Drive Charts - Spirit FM 96.6 in far away Kampala, Uganda.
he Drive Radio show with Lady Bezo (One of Uganda's top Radio & TV personalities) is one of the biggest shows in East Africa. The chart which is announced weekly is listened to live by millions of fans in Uganda and beyond.
Top 10 (18|03|16)
#1 Alingi Nga - Maka & Saachi
#2 Am blessed - New ChaptersUg
#3 Wakitibwa - brian lubega
#4 LINYA IYE - PHILA FT RICHY KAWEESA
#5 Togwamu - Sandra Suubi
#6 Christian Daughter - McRabbi
#7 Pamoto - Shoggy Tosh ft henrisoul
#8 Refuse - Pompi
#9 Obanga Kene - EJANG DAISY
#10 Kulukuta - coopy bly ft fortune spice
Pamoto by SHOGGY TOSH ft HENRISOUL produced by PASTORCHILD is the second single from Shoggy Tosh's EP, 'emujow'. The song was written and composed by Shoggy Tosh & Henrisoul, and produced by Pastorchild.
Pamoto was mixed in London by Pastorchild, and mastered in the USA by Izzy. 'Pamoto', which means an addictive dance dedicated to the Creator of mankind, was the Number 1 most downloaded Gospel song on My Not Just Ok in 2015.
Summary In 150 days
✔️ 41,000 views on Vevo - Pamoto music video
✔️ 161,000 MyNotJustOk downloads on Pamoto song
✔️ 4 International awards [London PGMAwards; Gathering of Africa's Best; Akademia, Hollywood X2)
✔️ #1 [7 consecutive weeks] on Top 10 Gospel Chart - ITV Radio 92.3FM Benin, Edo State. Nigeria
✔️ #8 on UK Christian Chart - November, 2015
️✔️ #7 on The Drive Charts - Spirit 96.6FM Uganda - 18/3/2016
Download Shoggy Tosh's award winning song ft Henrisoul: http://bit.ly/Pamotosong
Watch the music video ft Henrisoul dr by Femi Best Touch: http://bit.ly/Pamotovideo
Twitter handles:
Shoggy Tosh: @ShoggyTosh
Spirit 96.6 FM: @Spiritfm966
Lady Bezo: @LadyBezo