SSS ARRESTS ASARI DOKUBO AT SEME BORDER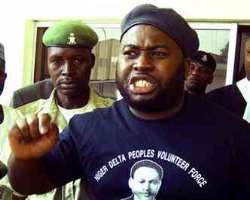 Leader of the Niger Delta Peoples Volunteer Force, Alhaji Mujarhedeen Asari Dokubo
A former president of the Ijaw Youths Council and former militant leader in the Niger Delta, Alhaji Asari Dokubo, has been arrested by security operatives at the Nigerian end of the Seme border with Republic of Benin.
Investigations revealed that Dokubo was coming into the country from Cotonou, when operatives of the State Security Service arrested him.
It was gathered that Dokubo was on his way to the country to honour invitations from the leadership of repentant militants in the Niger Delta, in an effort to achieve lasting peace in the region.
Dokubo had disagreed with the Federal Government on the granting of amnesty to ex-militants.
He opposed the use of the term 'amnesty,' just as he disagreed with other militant leaders for embracing the programme.
Specifically, Dokubo had said that he was not embracing the amnesty because he had not committed any offence.
Our correspondent gathered that Asari had already completed his entry formalities with the men of the Nigeria Customs Service at the border, and was being attended to by an immigration officer identified as Isah, when he was arrested by operatives of the SSS.
The source could not disclose the reason for Dokubo's arrest.
It was further learnt that there was a stampede at the border as Dokubo refused to honour the directive of the SSS to alight from his black Prado Jeep with a Benin Republic number.
He was said to have stayed inside the car for over three hours, as the operatives did not try to drag him out.
The source said, 'He was coming into the country from Cotonou when they (SSS) stopped him. He has been there for the past three hours. He is still in his car.
'The security agents did not want his car to come into the country. He did not accept amnesty. He said that he did not embrace amnesty, because he did not commit any offence. I think since he left the country, he has been living in Europe.'
A former member of the Ondo State House of Assembly and erstwhile National Public Relations Officer of IYC, Mr. Kingsley Kuku, confirmed the incident on the telephone to our correspondent on Sunday.
Kuku, who is also the secretary of the Committee on Peace and Conflict Resolution in the Niger Delta, said that Dokubo was in the country in response to invitations from key stakeholders in the Niger Delta.
He said, 'Well, I can confirm that he is being held by operatives of the SSS at the Seme border.
'He was coming to Nigeria because core stakeholders, who are keen on finding a lasting solution to the issue of restiveness, wanted him to be part of the peace process.
'You know he did not accept amnesty but we believe that everybody should be involved in the drive for permanent peace in the region, to ensure that the peace process is total.'
But when contacted, the SSS denied knowledge of the incident.
Its spokesperson, Mrs. Marylyn Ogar, said, 'I don't have any information on that. I don't.'