BUSKERS IN COMPETITION FOR TUBE PERFORMANCE LICENCE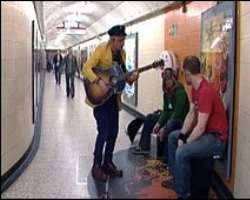 Buskers competed for the chance to win a licence to play on the London Underground for a year.
The musicians played at various sites on the Tube, with their performances posted on the Rhythm of London website where people can vote.
The participants later performed at Trafalgar Square at a free music event that also celebrates St George's Day.
The concert and competition was the culmination of the week-long Rhythm of London festival.
It has seen events in schools and at venues around the city.
The winner of the busking competition will be announced later this year.