My Father Warned Me That no Space for Divorcee in His House…Sola Kosoko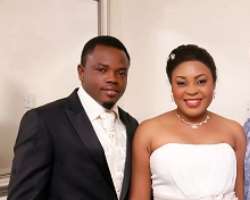 Yoruba actress, Sola Kosoko, has been pretty scarce in the movie industry and this is due to the fact that the actress has returned to school to study more.
The actress is currently studying performing arts at Olabisi Onabanjo University, Ago-Iwoye, Ogun State, which according to her should have lasted for six months but due to constant strike it is now taking so long.
Sola, speaking with City people magazine on how she has been able to sustain her marriage unlike some union of some entertainers which has hit the rocks, pointed at her father, Jide Kosoko.
She explained that her father and God have been the pillars behind her successful home because he once told her before getting married to check the man she is about to love because any bad news, she will not be allowed home as a divorcee.
According to her, "It is all for God. It takes only the grace of God to keep moving in that journey. I don't bite more than I can chew. More so, my father's advice has kept my marriage going because he told me then before I got married to be careful and watchful about any man that I want to marry, because after your marriage, there is nothing like coming back home as a divorcee. That alone keeps my marriage."