Ooni of Ife Set To Give His New Wife First Public Kiss in Edo State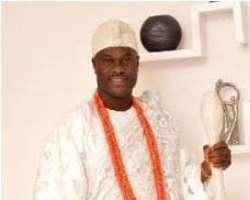 The Royal Majesty Oba, Enitan Adeyeye Ogunwusi will today wed his new bride, Wuraola Otiti Zynab Obanor, an architect based in Dubai, UAE from Benin, Edo state. All roads will literally lead to Benin City today for the event.
The traditional wedding is expected to kick off at noon at the Edo Hotel, Okada Drive, GRA Benin City, Edo State. A thanksgiving ceremony of the traditional union will hold tomorrow at the Royal Court of Ife, Aafin, Enuwa Square in Ile-Ife, Osun State.
The choice of Benin for the first part of the wedding is because the new Olori has Benin roots and is also from Ile-Ife.
It's being attended by first class kings, political juggernauts, business titans and high-octane socialites from near and far. Photos below show the arrival of His Imperial Majesty's Royal entourage in Benin for the wedding ceremony.
The wedding is considered strategic and imperative as it's strictly against the tradition for a king to live in the palace without the olori (queen).